Galkowo – Masuria
Ferensteins'
Stud and "Knajpa u Targowiczan"

Galkowo – Ferensteins' Stud
Alexander Potocki
Galkowo 45
12-210 Ukta
tel. +48 87 42 57 073 or
tel./fax: (+48) 87 42 40 865
email:stadnina@galkowo.ibi.pl
or
renate@post.pl
Galkowo is situated in the Masurian Scenic Park between Piecki and Ruciane-Nida. It takes 20 minutes on horseback along a forest path to the nearest lake.


The stud offers:
saddle horses
an instructor, a square for trainings, horse rides in the fields, a hall for horse riding
for children ponies
horse rides
chaises, sleighs
sports trainings
a guesthouse for horses
breeding services
"Knajpa u Targowiczan" Inn
Our inn is situated in an old rebuilt stable in the garden of the Ferensteins' stud situated near the edge of the beautiful Pisz Forest – 2 km from the Krutynia River and the village of Krutyn.
We are famous for tasty home-cooked meals, good service and nice atmosphere. Everyone can find something for themselves in our menu. Our guests are horse lovers, dog lovers and lovers of the beautiful nature of Masuria.
On special request we organise:
Dinners, suppers and barbecues for sightseeing groups coming by coach
Banquets on special occasions (birthdays, jubilees, etc.)
Catering services for horse rides, canoeing or bicycle trips
In season "Knajpa u Targowiczan" Inn is open every day from 9.00 a.m. until the last guest goes out. Outside season, please visit us at weekends.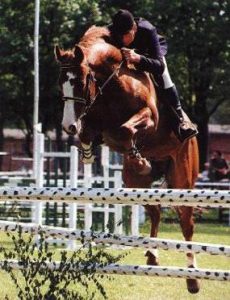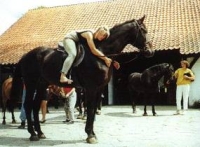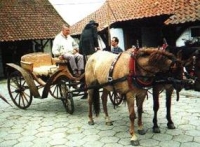 "Knajpa u Targowiczan" offers:
food, drink, good fun
service of horse rides
billiards
special orders outside.